I'm going to step outside my usual remit (and comfort zone) of just writing about Liverpool to offer my t'penny's worth on tonight's exciting Champions League clash.
If I was Mourinho, this is the team I would pick: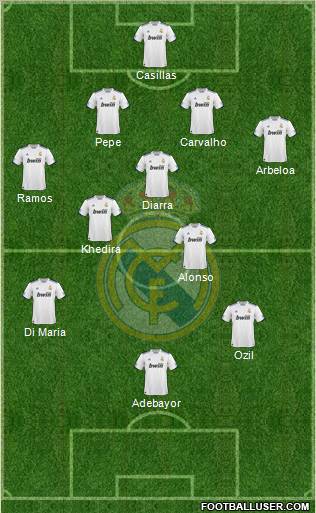 Admittedly, this formation is in some sense designed to achieve a scoreless draw, which might seem a bit too unambitious for a club like Real Madrid. Although not entirely devoid of attacking merit (RM's three deep midfielders will force Spurs to patiently concede them possession, or go and press higher up the pitch, leaving space in front of the defence for Ozil or Khedira to break into), it is indeed reactive, in the sense that it is designed to counter Tottenham's strengths. But it should actually allow Madrid to be less passive in the game overall, by stemming Spurs' attacks at the root (i.e. Modric, Bale), rather than risking a regular flow of balls to Crouch which would surely cause Pepe (6"1) and Carvalho (5"11) some serious problems.
Also, Spurs are often (in this season's Champions League at least) most threatening on the counter attack, especially when they get the ball wide quickly and let Bale and Lennon run at their opposing full-backs. 60 or 70 minutes of patient defensive play with three defensively capable midfielders employing some energetic pressing should frustrate Tottenham, and may see them losing their discipline, at which point attacking quality and pace could be utilised from the bench. My recommended omission of Marcelo and Ronaldo (two of Real Madrid's best players) is primarily due to their lack of fitness, but a cameo role for one or both from the bench could really terrorise Spurs' less-than-watertight defence late on.
Ramos will be nervous about his battle with Bale on the wing, but if he is likely to have some success if he stays fairly deep and shows Bale inside, onto his right foot where he will run into a congested midfield. Also, Di Maria is hard-working and capable defensively, and Khedira is a strong, dynamic defensive-midfielder who is comfortable pulling wide to double up on wingers. Diarra is well placed to mark Van der Vaart (who, I believe, can sometimes struggle to impose himself on games when denied space). All three defensive midfielders will have to make sure they close down the excellent Modric too, as he really makes things work for Spurs. If they can stop him from being able to play balls into the wide spaces, to the feet of Van der Vaart, and up to Crouch, then much off Tottenham's threat is quelled.
Tottenham, though, will likely face Madrid's usual 4-2-3-1 system, with Ozil behind the striker and Ronaldo wide on the left. Side Lowe has noted that Madrid can sometimes be guilty of Ronaldodependencia - i.e. seeing him as their only attacking option, despite having generally played well in his absence this season - so Sandro or Palacios (whoever Redknapp chooses to play alongside Modric in the midfield) will have to get tight to Alonso, who has played more passes to Ronaldo than any other Madrid player this season. If the Madrid midfield is given time to pick out Ronaldo time and time again (and he is at his best, i.e. fully fit) he could definitely cause the relatively slow Vedran Corluka some serious problems.